After years of speculation Tim Apple​ had finally announced Apple TV Plus – their very own version of TV or video streaming to heat up the already competitive online streaming landscape.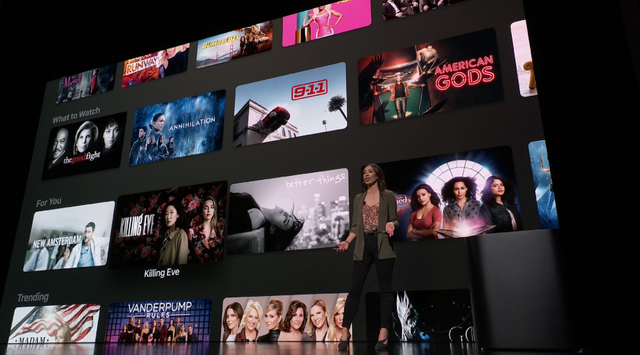 What do think about it, do you think that the AppleTV Plus will end the popularity of Netflix around the globe.
Or do you think do AppleTV Plus will also appealing to the masses like Apple iPhone?
Which do you think is better that perfectly fit to your need? Apple TV Plus? Netflix? Hulu? Amazon?
Since we all know that Apple is the most recognisable brands globally, and their offerings are always snapped up as soon as they're released.
Do think it Apple TV plus will surpass Netflix, since they have already gained so much traction, enjoying the first movers' advantage. Besides don't forget Amazon prime video, Hulu and etc.
How Apple TV Plus become different from existing online video / TV streaming?
The Apple TV Plus will featuring Apple's original programming — alongside a redesigned, more advanced Apple TV app at the Steve Jobs Theater. "As you can tell, today is going to be a very different kind of event," Cook said to kick things off.
Apple TV Plus will be ad-free, available on demand, and viewable both online and offline. Apple plans to launch it in over 100 countries sometime this fall, though it did not disclose pricing today. But you'll access Apple TV Plus through the redesigned Apple TV app on iOS, Mac, Roku, Fire TV, and televisions from various manufacturers.
What makes Netflix different to Apple TV Plus?
For the past years, Netflix has been the one true streaming behemoth, gobbling up its competition. Not only are they producing original & quality content, they are also banging in the big bucks internationally. Additionally, rights of popular overseas' series are acquired to expand their catalogue.
Netflix strategically targeted the Spanish & Korean audience with popular series like Elite, Kingdom & many more.
How can I install Apple TV Plus to Skyworth Smart Android TV?
Probably this question will soon be heard around the Skyworth Call Center production area. And as expected some Skyworth customers might demand refund or change because they cannot install Apple TV Plus app to their Skyworth Smart Android TV.
In this post I just want to clarify, that Apple TV Plus won't be installed in any Skyworth TV product. However there is a chance because Tim Apple have that it will access Apple TV Plus through the redesigned Apple TV app on iOS, Mac, Roku, Fire TV, and televisions from various manufacturers.
How can I install Apple TV Plus on my Samsung Smart TV?
In my opinion, this question might also being asked by some Samsung TV users. Probably it won't have any chance since Samsung and Apple are rivals since the era of Smart phone. Furthermore, Samsung uses it's very own tizen operating system. However, most of there new model now comes powered by Android Operating system.
Will Apple TV Plus comes available in LG Smart TV, Sony Bravia, Huewei Smart TV?
Probably this brand will work with Apple TV plus since Tim Cook said you'll access Apple TV Plus through the redesigned Apple TV app on iOS, Mac, Roku, Fire TV, and televisions from various manufacturers.
I don't know it is just my opinion since the brand on the list doesn't have history of misunderstanding with Apple. In fact, Huewei CEO have found to own Apple products on her possession.
How to install Apple TV Plus to Coocaa Smart Android and other Chinese TV brand?
Chances are zero to some percent probability to installed Apple TV Plus to Coocaa and other Chinese brand.
Just remember Coocaa 2K Android Smart TV the 40S5G. This particular model is supposed to be a Netflix TV but being blocked because they didn't pay the license. Likewise, the Skyworth 40E6, 40E6D, 40E3 and 40E3D are supposed to be the an Android Netflix TV but due to unpaid license it was blocked.
Therefore, the probability for these brand to pay the Apple TV plus is near Zero to none.
How to Apple TV Plus in Google Play store?
This "how to" question will surely revolves around across the internet one of this day. Once it goes live and released to the masses, people will start talking about it.
And the curious mind of the people will asked impossible questions such as "Can I download Apple TV Plus using my Android TV? Or Does it compatible with Android OS?".
Let me answer those questions. No. Apple TV Plus will not be possible to install or be downloaded in any Android platform. Since, it carries Apple's original code then it only compatible across Apple products.
If you want to use Apple TV Plus as your major entertainment in your living. Then my suggestion, buy a 4K Apple TV now which is available in there concept store nationwide and wait for the release.
What are the target customer of Apple TV Plus?
Probably they will follow what Netflix did. Maybe they're already started shooting movies now and remaking old movie.
But in the meantime, Apple users are their main target customer. Let's wait for the official announcement to be deliver by Tim Apple.